Vice Chair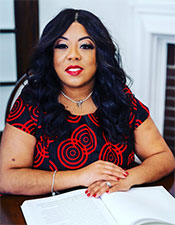 Dr. Veneilya A. Goodwin-Harden, PhD is currently serving as an Advocacy Specialist II within the New York State Office of Mental Health in the Division of Child and Adult State Operations.
Dr. Goodwin-Harden possess a Doctorate of Education, and Ed., Bachelor of Science in Criminal Justice at Russell Sage College and a master's degree in Counseling in Community Psychology with a certificate in Forensic Mental Health at Sage Graduate School in Troy, New York. During her graduate studies at Sage, Goodwin-Harden worked to bring awareness to HIV/AIDS, domestic violence, and mental health.
Goodwin-Harden has done a variety of work in the Albany and Troy communities including local outreach/advocacy with at risk teens, connecting individuals struggling with addiction to treatment, and volunteering with Albany County Crime Victims as a crisis hotline volunteer.
Veneilya Goodwin-Harden has been serving on the board since 2017 and was appointed as Vice-Chair in 2021