Chair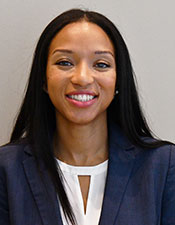 Nairobi Vives hails from Albany, her hometown, with roots deeply intertwined in the vibrant South End community. She completed her undergraduate journey in 2009, earning a dual degree in Political Science and Economics from the University at Albany, SUNY. Seeking higher educational horizons, Nairobi pursued her studies at Temple University in Philadelphia, Pennsylvania. It was there that she achieved her Juris Doctorate Degree, graduating with honors in May 2012 from Albany Law School. During her time at Albany Law School, she showcased her legal acumen as a distinguished member of the Albany Government Law Review. Her prowess in advocacy led her to secure the esteemed Karen C. McGovern Senior Prize Trial for "Best Oral Advocate." Nairobi also honed her skills through a pivotal judicial externship at the Albany Law Clinic & Justice Center, working under the guidance of Hon. Lawrence Kahn in the U.S. District Court for the Northern District of New York.

Nairobi's legal journey has been diverse and impactful. Her early career saw her as a stalwart defender in intricate workers' compensation litigation for the New York State Worker's Compensation Board. She possesses a comprehensive legal background, encompassing multifaceted areas such as construction, employment claims, environmental law, and real property matters. Her tenacity led her to serve as Associate Counsel to the New York State Assembly for two productive years. In this role, she provided astute legal counsel to NYS Assembly members and committee chairs on matters spanning legislation, program development, and budgeting. Presently, Nairobi lends her expertise to matters central to diversity, equity, and inclusion.

Outside of her professional responsibilities, Nairobi actively engages in pro bono initiatives that underline her commitment to justice and community. She ardently participates in projects like the Legal Immigrant Detention Outreach Project and the Legal Project Uncontested Divorce Clinic. Nairobi's dedication extends to community-building efforts, including her involvement in the Albany County Bar Association's "Attorney for a Day" Program, Small Business Formation / Consultation endeavors, and offering counsel to various protest arrestees.

Nairobi's dedication to her community is palpable. Her steadfast commitment led to her appointment to the Albany Community Police Review Board (CPRB) in June 2020. She has since risen to the esteemed position of CPRB Chair, assuming this pivotal role in 2021. Through her leadership, Nairobi continues to champion fairness, accountability, and transparency in the community's relationship with law enforcement.