Chair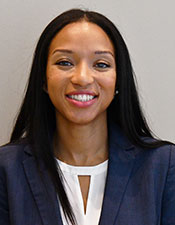 Nairobi Vives is an attorney with a broad legal background, with experience in matters involving litigation, construction and public finance. She currently advises on matters involving diversity, equity and inclusion.
In addition, Nairobi spent two years as Associate Counsel in the New York State Assembly, where she advised Assembly Speakers and Committee Chairs on legal matters concerning legislation, program development, and budgeting.
Nairobi is a cum laude graduate of Albany Law School, where she was a member of the
Albany Government Law Review and the Karen C. McGovern Senior Prize Trial winner for "Best Oral Advocate."
She also held a judicial externship in the Albany Law Clinic & Justice Center with the Hon. Lawrence Kahn in U.S. District Court for the Northern District of New York.
Nairobi Vives was appointed as Chair of the City of Albany Community Police Review Board in 2021.