Secretary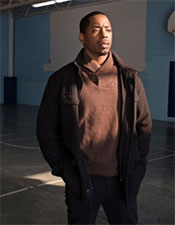 A Batman story…..
In a world plagued by fear, in a city haunted by neglect, a dark knight rose….
Born and raised in Albany, New York, Paul committed to helping others after the death of his father when he was 3. He helped care for his blind mother as they forged a path together. As Paul grew, programs such as the Big Brother Big Sister program and mentors such as Jim Snyder helped him develop. It was there he learned the im‐ portance of caring for others, and just how impactful a community can be on a child. Albany's Batman was born.
After graduating from Albany High and then Siena college, Batman joined with others to launch the non profits "Tru Heart Inc" and "PULSE". He worked at a local homeless shelter and began to plan. He served our great city as Director of the summer youth employment program, providing income and opportunity to local families. Now, Batman is the Executive Director of The RED Bookshelf, where his team of superheroes inspires young readers.
Batman continues to bring others into this league to work with our youth and save the city. This, league, of concerned individuals became the blueprint for his work moving forward. In addition to his day job, Batman is on the board for the Albany Fund For Education, serves as Vice President of Tru Heart, is on the alumni board of the Sponsor a Scholar program, is Co-founder of PULSE, is on the steering committee of the Community Leadership Team for the Law Enforcement Assisted Diversion program, the Secretary of the Community Police Review board, the co owner of a small business venture and more.
Despite his humble beginnings, Paul lives by the motto "what I do defines me", and is an example to others that where you begin is not where you have to end in life. The most important question in life is "how do we move forward". Paul does his best to be the change he wants to be and lead by example. We can all sleep peacefully knowing our Dark Knights are behind us.
#SaveTheCity